Bizidanny Tours & Safaris are among the Kigali tour operators recommended in the latest edition of the "Bradt travel guide to Rwanda", and also by some recent visitors to the country: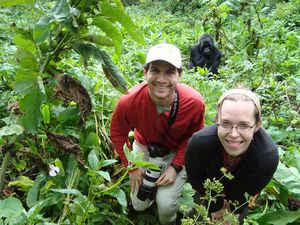 Kevin Sherman <kevinsherm@gmail.com> , from the UK
"Danny-
….. Deanna and I really just wanted to thank you for all your help in planning our trip, and just as importantly, for allowing us to share it with our guide/driver J.

Knowing almost no one who had previously visited Rwanda and having
really no idea what to expect ourselves, I'm sure you can understand
our fear and desire to make sure we did everything right. Rather than
just taking over yourself and assigning us a pre-planned trip, it was
clear that you listened to our thoughts and took each one into consideration. In your business I'm sure it's easy and more than a
little tempting to re-use itineraries and provide standard responses
to questions, but the obvious personal interest you take in each of
your trips truly does make a difference. And your policy of
responding to emails within 24 hours really did make things easier
(though I'm sure our rapid fire emails tested that policy from time to
time). Having a thought or issue come into our minds and knowing we
could get a prompt, personal answer from you made our lives a whole
lot more relaxed. So thank you.

As for our guide/driver J, we really can't say enough. His knowledge of the
country (and driving skills) are really all you could ask for from the
best of tour guides. We really have no idea how it's possible he had
the answer to seemingly every single question we asked without
making-up answers from time to time, but if he was making things up on
the spot he (usually) made it very believable. But joking aside, he
gave us great insight into everything from the cultural and physical
landscape of the country to providing a first hand account of what it
means to be a Rwandan and the issues facing the country today.
Whether he was in the middle of a 7 hour drive over poor roads,
waiting for us while we were tracking monkeys on Christmas Day, or
taking us to genocide memorials on his birthday, J. always had a
smile on his face and truly seemed to be loving doing what he was
doing. We really did have a great time with him.

Overall, we both had unbelievable experiences in Rwanda. As I said we
really did not know what to expect, but the trip far exceeded any
expectation we could have had. The trip itself was a great
combination of seeing the country, understanding the culture, physical
activities, and meeting the people, and all at a great pace -- which
was exactly what we asked for. Beyond the trip, we can't stop talking
about how impressive a country yours is. I'm sure it's readily
apparent to you, but for a people to rise from the troubles Rwanda has
and become what it is today is truly unbelievable. And quite an
experience for us to have.

So thanks again for giving us the opportunity to explore your country
and making the experience as good as could be."

- Kevin and Deanna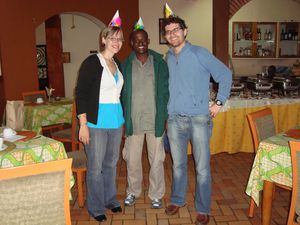 Deanna Cettomai <deanna.cettomai@gmail.com> , from the UK
"Hi Danny,
…. First, thank you to you for all of your flexibility, responsiveness, and personal attention in planning our trip. It truly was the perfect combination of physical activities and touristy things (i.e. gorillas, golden monkeys, chimpanzees, etc.) and cultural experiences (i.e. genocide memorials, orphanage, etc.). Second, I also can't state enough how happy we were with our guide/driver J. He was the ultimate professional at all times but was also fun, easy to talk to, and down-to-earth. Kevin and I both truly enjoyed learning from him, as he knew the answer to every question we asked, but also just getting to know him and spending time with him. He was a perfect guide and ambassador for the country. Finally, I also can't quite put into words what a wonderful and meaningful trip we had. I know it sounds melodramatic to say it was 'life-changing,' but in many ways, I truly think it was. I have never been so impressed or learned so much from a group of people. I feel like I learned a great deal about the atrocities and terrible things humanity is capable of in learning about the unspeakable acts that took place during the genocide, but I also feel I learned even more about the resiliency of the human spirit, the powers of love and forgiveness, and the strength of the Rwandan people to not only persevere but also to move forward in such amazing ways. I was completely impressed by your country and its people, and I loved every minute of my time in Rwanda. Thanks again for everything, and please feel free to forward this email and/or my contact info to people looking for references in the future. It would be my pleasure to provide a reference for Bizidanny Tours."
Sincerely,
Deanna
==================================================================
Amy Kindred Bonanno <jbmaxx@nyc.rr.com > , from New York
"Hi Danny -
Sorry we didn't get a chance to meet you in person while we were in Rwanda - we had a wonderful time and I am sure that J. shared the details with you - the gorillas were just amazing - and as hard as that trek to the Susa Group was in the end I can honestly claim a big personal achievement - had we known the difficulty of the climb and had we also known that those silly gorillas would keep going up as we tracked them we probably wouldn't have pushed so hard to do that group - in the end though it was a great experience that we will remember always.
You did a great job planning our trip and we hope to come back again for a second round - there is also much more to see in Rwanda so we will want to spread out the days a bit more and see other things....thanks again and I am sure we will talk again...."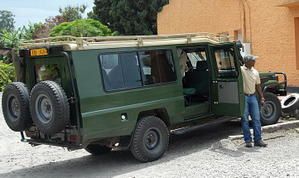 ======================================================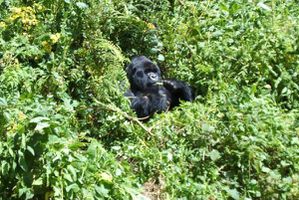 Zahra Ramji <zeeramji@yahoo.com> , from Canada

"….I am back in
Canada
after a very exciting journey. I was sad to leave
Rwanda
, as I did have a truly terrific time, and I know you are very pleased to hear that.
Our guide/driver A. took extremely good care of us, and the trekking was a lot of fun!!
Onward bound we went to climb Mt Kilimanjaro……
……Anyway, I wanted to thank you and A. for helping to create such a fantastic experience for me in Rwanda. ……..
….. I did have a lovely time in Rwanda and would definitely like to come back and visit. It's a beautiful country with beautiful people and one that I found very safe and very hospitable.
Thanks and look forward to hearing from you. Sorry for the long email. Cheers, Zahra"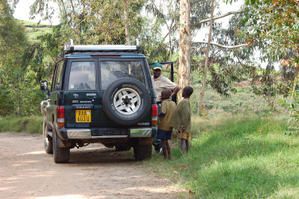 ===========================================================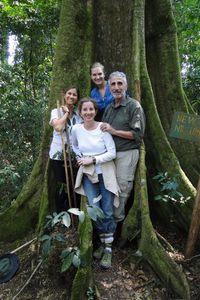 Dana Kazarsky <danabk414@aol.com> , from the US
"Danny,
Greetings.
We have been back from Rwanda and Kenya almost three weeks now, but I am still dreaming of Africa. Our trip really was wonderful, better than I had expected it to be.
I just wanted to thank you once again for helping to make this trip as special as it was for us. Thank you for sharing your beautiful country with us and for being as open and honest as you were with us about what life in Rwanda has been like for the past 15 years. The ability of Rwandans to move forward, politically, socially, economically and emotionally, given the horror of the genocide, is truly a lesson for us all. Clearly it is not easy for anyone, but the national commitment to creating a brighter, peaceful future, full of hope for your generation, for your children and for your children's children is truly remarkable. It is impossible, as a westerner, to not be awed by Rwanda's efforts to heal.
I hope that you are busy with clients. We thought you were a terrific guide and really appreciated all your help and companionship during our visit to Rwanda.
Best wishes,
Dana"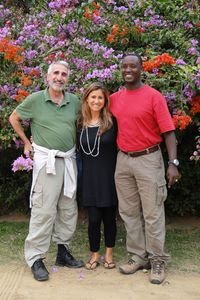 ==================================================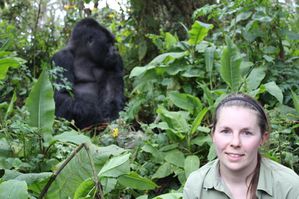 Maryse Guenette <maryseguenette@yahoo.com>
& Manuel Garcia <mafer_canr@yahoo.com> from Canada
"Hi Danny,

we were very sorry not to be able to meet you in person.... our schedule was too tight.

We want to say thank you for all your help. Our guide/driver H.(PLEASE let me know how to spell his name) was WONDERFUL. we REALLY miss him. we would have loved to have him for our safari in Tanzania!

we will talk to you soon."

Maryse & Manuel